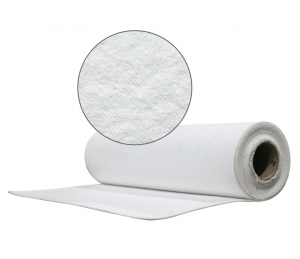 Biosoluble paper
Designed from a special spinning process of calcium, magnesium and silica bases, the 3R 2770HT offers several advantages over traditional fibrous insulating materials in high temperature applications. It remains stable even at elevated tension or if subjected to humid atmospheric conditions.

This product also has low levels of non-fibrous particles, commonly called «shot». Therefore, it delivers particularly good thermal conductivity, which minimizes heat loss, reduces outer surface temperatures and cuts operating costs.
Downloads
Applications
This biosoluble paper does not adhere to molten metals. In result, it can be used in troughs, gaskets, ladles and other areas that come in direct contact with molten aluminum.

Due to its combination of thermal stability, insulating ability and strength, applications for 3R 2770HT include :

Melting/holding furnace doors and roofs
Heat treating/homogenizing furnace lining
Carbon bake furnace corner insulation and covers
General heat protection use
Specifications
Physical properties
Color
White
Nominal density (pcf)
11-13
Thickness
1/16" to 1/4"
Melting point
1400°C (2550°F)
Maximum use limit
1300°C (2370°F)
Continuous use limit
1150°C (2102°F)
Thermal conductivity, BTU*in/hr*ft2 °F (w/m.k) ASTM C201
Temperature @ 260°C (500°F)
0.39 (0.06)
Temperature @ 535°C (1000°F)
0.65(0.09)
Temperature @ 815°C (1500°F)
1.02(0.15)
N.B. The information, details and values indicated are to the best of our knowledge. We recommend to conduct tests according to local conditions. The data is subject to some variations without notice.