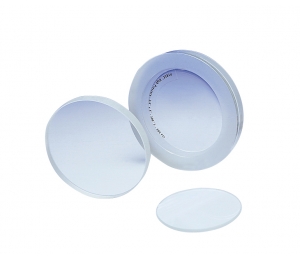 Sight glass
Corning Pyrex® Brand ¾" Annular Edge Sight Glass

The Corning glass ring is specially designed for high pressure applications. The outer perimeter, raised on both sides, is polished to obtain a flat and parallel finish to the rest of the ring. When it is bolted to its position, the pressure is uniformly dispersed on the annular surface where the seal is placed, enabling it to seal effectively.

Available sizes : 4" ? 5" ? 6" ? 6 ¾" ? 8 3/8"
Maximum temperature :
Plain : 400°F
High pressure : 500°F

Borosilicate Glass

Borosilicate sight glasses are essential in many chemical and industrial processes for observation of high temperature and high pressure operations. Available in rectangles, squares and circles, cut to desired size and specification. The edges trimmed and polished.

Available thicknesses : 1/8" - 3/16" ? 1/4" ?3/8" ? 1/2" ? 5/8" ? 3/4" ? 1"

®Pyrex is a registered trade mark of Corning.
N.B. The information, details and values indicated are to the best of our knowledge. We recommend to conduct tests according to local conditions. The data is subject to some variations without notice.