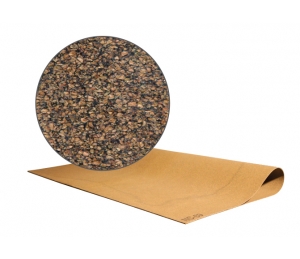 Cork rubber
The 3R897 is a high quality nitrile rubber cork. This type of cork is highly compressible and has good resistance to oils. It withstands temperatures ranging from -40 to 121 ° C (-40 to 250 ° F).
Applications
The 3R897 cork is particularly effective for dielectric strength and dry heat. It is also recommended for electric motors, fuel & oil pumps, grease retainers, small engine service and transformers. This material is as well used for carburettors, gasoline pumps and hydraulic systems. It therefore resists to gasoline, diesel, aromatic hydro-carbons, aliphatic ethyl alcohol, methyl alcohol, ethylene and glycol.
Specifications
Technical Data
Immersions
Physical Properties
Polymer
Nitril
Color
Natural
Durometer Shore A (ASTM D2240), pts
50-70
Density (ASTM D3676) (g/L, min)
529 (33 pcf, minimum)
Tensile Strength (ASTM F152) Mpa
1.34 (200 psi, min.)
Compressibily (400 psi), (ASTM F36) %
35-45
Recovery (ASTM F36) %
75 min
Flexibility (ASTM F147)
3 max
Compression Set B (ASTM D395) %
(25% deflection, 22 hrs. 158°F)
80 max
N.B. The information, details and values indicated are to the best of our knowledge. We recommend to conduct tests according to local conditions. The data is subject to some variations without notice.