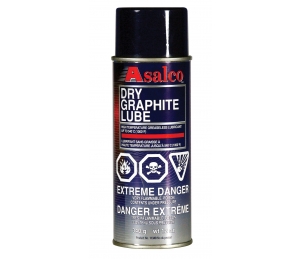 Graphite lubricant
Excellent aerosol dry-film lubricant that prevents sticking and seizing. It air dries quickly, can be applied to metal, wood and plastics. The 3R3020 provides a smooth film and resists to various temperatures of -30°F to 800°F. Also, it is not greasy, is non-flammable, it conducts electricity without being magnetic. The propellant is "ozone friendly" since the environmentally harmful CFCs have been eliminated. This material is available in 12 oz aerosol cans.
Downloads
Applications
The 3R3020 can be used for a multitude of applications :

Gates
Transfer wheels
Coating dies for storage
Monorails
Printed circuits
Hose reels
Belt & chain guides
Release coating for core boxes
Turnstiles
Mold release
Spark plug threads
Winch drums
Truck roll-up doors
Garage doors
Overhead crane rails
Extrusion dies (Storage & break-in)
Static bleeding Press fitting
Specifications
Physical properties
Physical Properties
Air dries quickly-requires no baking
Can be applied to all metal, wood and plastic surfaces
Greaseless, oil-free - will not pick up dirt or grit
Electrically conductive, non-magnetic
Good lubrication, metal release, anti-weld
Commonly Used for
Commonly Used for
Gates
Monorails
Hose reels
Turnstiles
Mold release
Winch drums
Garage doors
Sliding doors
Exhaust ducts
Chain saw bars
Static bleeding
Transfer wheels
Printed circuits
Belt & chain guides
All types of Chains
Spark plug threads
Commonly Used for (2)
Trock roll-up doors
Ventilation louvers
Overhead crane rails
Outside bulb sockets
Fork lift track masts
Press fitting
Coating dies for storage
Remote control equipment
Release coating for core boxes
Flash pins - stack bar fingers
Commonly Used for (3)
Aircraft metal - to- Metal surfaces
Automatic electric switching gears
Open Gears on construction cranes
Extrusion dies (Storage & break-in)
Meter parts (Parking, water)
Office furniture & Equipment mechanisms
N.B. The information, details and values indicated are to the best of our knowledge. We recommend to conduct tests according to local conditions. The data is subject to some variations without notice.