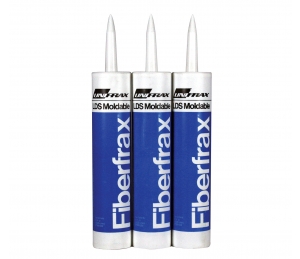 LDS MOLDABLE
The LDS Moldable® consists of ceramic fibers dispersed in a sticky water-based refractory binder. This material has putty-like consistency which permits application by caulking, troweling or hand forming. It possesses the advantages of ceramic fiber insulating materials : high temperature resistance, excellent insulating properties, excellent thermal shock resistance, chemical stability and ease of installation.
Downloads
Applications
It adheres well to most surfaces. Drying is accomplished at a non-critical, elevated temperature and the resulting dried material is strong, hard and erosion resistant. It possesses excellent resistance to wetting by many nonferrous molten metals and is used extensively in molten aluminum contact applications.
Specifications
Technical Data
Physical Properties
Appearance
Sticky putty
Continuous Use Limit
1250°C (2 300°F)
Solids
55%
Wet Density (lb/ft³)
85
Dry Density (lb/ft³)
50
LOI (%)
5
Shrinkage (%) (24 hrs)
4 to 2000°F
Molten Aluminium - Wetting Resistance
Good
N.B. The information, details and values indicated are to the best of our knowledge. We recommend to conduct tests according to local conditions. The data is subject to some variations without notice.