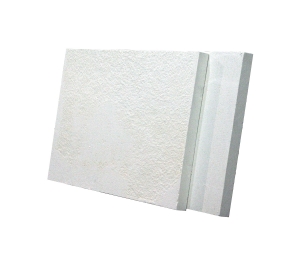 Mboard
Similar to the 3R4000, but more dense, this refractory vacuum formed board is also rigid and self-supporting and is composed from a mixture of ceramic fibers and binders. It offers low thermal conductivity, excellent strength and thermal stability at elevated temperatures. It resists to chemical attacks, in exception to hydrofluoric acid, phosphoric acid and strong alkali.

This inexpensive product is recommended in areas where mechanical tensions are high. It is also a very good support for dense refractories.
Downloads
Applications
It can be used as : appliance and heat processing insulation,
crucible and molten metal tray insulation, dynamic covers for places with high mechanical tension, furnaces, industrial furnaces, hot surface covers, for trough casting molten aluminum insulation, shields, etc.
Specifications
Physical properties
Color
Beige
Density, lbs/pi³ (kg/m³)
26 (416)
Maximum temperature
1315°C (2395°F)
Continuous use limit
1260°F (3200°F)
Modulus of rupture, psi (Mpa)
150-175 (1.03-1.20)
Compressive strenght, psi (Mpa)
@5% def.
50-70 (0.34-0.48)
@10% def.
70-90 (0.48-0.62)
N.B. The information, details and values indicated are to the best of our knowledge. We recommend to conduct tests according to local conditions. The data is subject to some variations without notice.