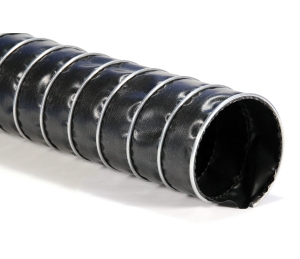 PVC fiberglass
Fiberglass fabric coated with PVC tubing with a galvanized external helix. Light weight, it offers high tensile strength for its weight and superior dimensional stability. Economical, this duct resists to ammonium chloride, calcium hydroxide, carbon dioxide, glycerine and glycol.
Applications
The VGB type duct hose is ideal for fume extractions and general service applications.
Specifications
Technical Data
| | |
| --- | --- |
| Temperature | -40°C to 80°C (-40°F to 175°F) |
| Ratio | 6 : 1 |
| Color | Black |
N.B. The information, details and values indicated are to the best of our knowledge. We recommend to conduct tests according to local conditions. The data is subject to some variations without notice.