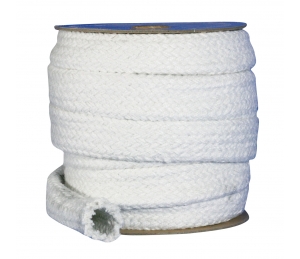 Ceramic
The 3R 2660SIL is known for its superior insulation capacity (1800°F). This ceramic sleeving resists well to thermal and mechanical shocks, to corrosion and vibrations. It has an excellent chemical stability and resists to most corrosive agents other then hydrofluoric and phospheric acids and alkali. Even after being soaked by water, oil or steam, it completely recovers to its original physical properties as it dries.
Downloads
Applications
This sleeve is durable and efficient for the industrial applications that need a strong and flexible textile. It is used for applications such as : to cover and insulate piping, tadpole tapes, thermal sealing (ovens, boilers) and high temperature lagging.
Specifications
Technical Data
| | |
| --- | --- |
| Temperature | 980°C (1795°F) |
| Int. diameter | 1/2" à 3" |
| Thickness | 1/8" |
| Ft/roll | 50 |
N.B. The information, details and values indicated are to the best of our knowledge. We recommend to conduct tests according to local conditions. The data is subject to some variations without notice.