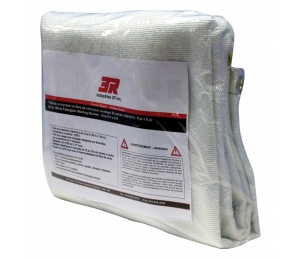 Welding screens
Our customized welding screens are designed to protect from welding sparks. Manufactured from a conventional or treated fiberglass fabric, we have the fabric that will meet your requirements. To facilitate their installation or assembly, they may be fitted with grommets or snaps. They can also be custom made for a specifi application.
Downloads
Applications
General purpose welding. Sparks, splatter and abrasion resistant.
Specifications
Technical Data
Available dimensions
6 pi x 6 pi (1,82 m x 1,82 m)
6 pi x 8 pi (1,82 m x 2,43 m)
8 pi x 10 pi (2,43 m x 3,04 m)
Weight
24 oz/yd² or 35 oz/yd²
Available thickness
0,022 po (0,56 mm)
0,036 po (0,91 mm)
Continuous temperature
1000°F (538°C)
N.B. The information, details and values indicated are to the best of our knowledge. We recommend to conduct tests according to local conditions. The data is subject to some variations without notice.