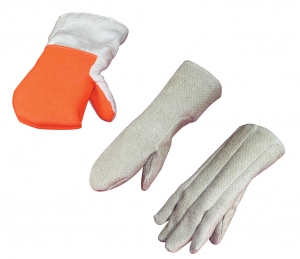 Gloves
The fabrication criteria for the gloves are determined in accordance to customers applications and needs. Quality materials are used in the development of these gloves, including quality sewing threads that meet predetermined standards which play an essential role in the manufacturing of textile products.
Applications
These gloves are made to protect from heat, molten metals, chemical agents or anything else that could pose a risk to the user.
Specifications
Technical Data
Fabrics
Fiberglass
535°C (1000°F)
Vermiculite
815°C (1500°F)
Ceramic
985°C (1800°F)
N.B. The information, details and values indicated are to the best of our knowledge. We recommend to conduct tests according to local conditions. The data is subject to some variations without notice.