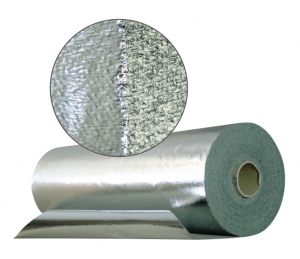 Protective clothing
The OKCA508 is a herringbone fabric woven from a blend of pre-oxidized acrylic and aramid fibers and is aluminized on one side.
Downloads
Applications
It is designed for protective clothing such as heat reflective suits, aprons, leggings, gloves, hoods and mitts, where the requirement is to protect the employees from molten metal splash.
Specifications
Technical Data
Test
Weight
480g/m²
Thickness
1.10 mm
Tensile strength (ISO5081)
WARP 2574N
WEFT 1698N
Elongation at break
WARP
7%
WEFT
10.32%
Tear Resistance (ISO4674:1977 Method A1)
WARP
>250N
WEFT
>250N
THERMAL TESTS TO EN407-PERFORMANCE LEVEL
Abrasion Resistance EN388
1
Tear Resistance EN388
4
MOLTEN METAL-PERFORMANCE LEVEL
Small Splashes EN348
4
Large Quantities EN373
4
MIL-C-87076A (TESTED IN-HOUSE)
Wet flexibility (Part 4.5.31)
No evidence of cracking or delimination
Adhesion after flex (Part 4.5.51)
No evidence of delimination
Fabric Care
Wipe Clean - Do not launder
Temperature
Continuous: 450°F
Brief Excursion: N/A
N.B. The information, details and values indicated are to the best of our knowledge. We recommend to conduct tests according to local conditions. The data is subject to some variations without notice.