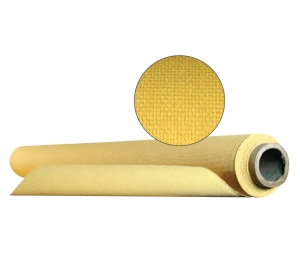 Neoprene coated fiberglass
The yellow TXP 423 is incombustible, resists slagging, to sparks and incidental flames from cutting torches.
Downloads
Applications
This fabric is recommended for the use in vertical welding curtains and protection clothing such as aprons, mitts, leggings and gauntlets.
Specifications
Technical Data
Weight (ASTM-D-3776)( oz/sy²)
23
Thickness (ASTM D-1777)
0.034"
Tensile strenght (ASTM D-5587)
Warp : 200 lbs
Fill: 200 lbs
Tear strength (ASTM D-5587)
Warp : 45 lbs
Fill: 35 lbs
Burst strength (ASTM D-3786) (psi) (psi)
340
Temperature
-40°C to 150°C (-400°F to 300°F)
N.B. The information, details and values indicated are to the best of our knowledge. We recommend to conduct tests according to local conditions. The data is subject to some variations without notice.