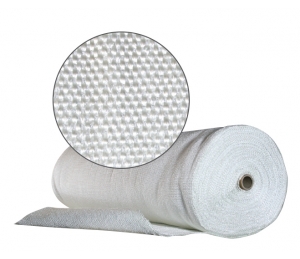 Conventionnal Fiberglass
The Texpro 400 fabric is produced with high quality texturized fibreglass yarns. Used either to insulate or protect, this fabric is flexible and adaptable to many applications. It does not burn nor emit harmful smoke or vapors when exposed to high temperatures,will not mold and resists to most acids and alkali.
Downloads
Applications
The TXP 400 fabric is used as heat shields, fire blankets, welding curtains, protection apparels, to make high temperature removable blankets, stress relieving pads, expansion joints and gaskets. Other typical applications include wrapping tools, pipes, cables to protect against other internal or external high temperatures.
Specifications
Technical Data
Weight (oz/yd²)
35
Thickness
0.080"
Width
40", 60"
Temperature
continue: 535°C (1000°F)
brief excursion: 645°C (1200°F)
Length/Roll (yards)
50
N.B. The information, details and values indicated are to the best of our knowledge. We recommend to conduct tests according to local conditions. The data is subject to some variations without notice.