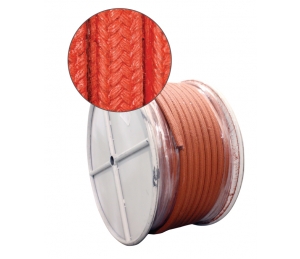 Blue fiberglass cables
The HTB650RO cable is made from blue texturized fiberglass yarn reinforced with copper insertion and impregnated with a high temperature silicone treatment. This manufacturing process provides to the product a better sealing property under vacuum and a very good abrasion resistance. It is available in round, square and rectangular forms.
Downloads
Applications
The HTB650RO cable is regularly used as seals for crucible pot lids.
Specifications
Technical Data
Material
Blue texturized fiberglass yarn
9µm ± 5%
Copper wire
.007" / 0.178mm
High temperatue silicone
-
Temperature
1400°F / 760°C
Elongation (%)
0.5
N.B. The information, details and values indicated are to the best of our knowledge. We recommend to conduct tests according to local conditions. The data is subject to some variations without notice.