ALUMINIUM 2016, Düsseldorf, Germany
December 20, 2016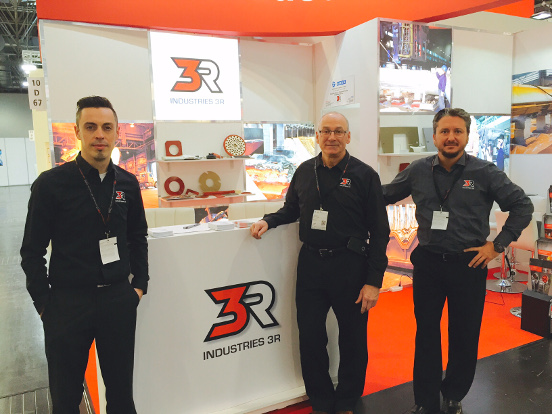 From November 29th to December 2th, 2016, the 11th edition of the industrial fair "Aluminium" was held in Düsseldorf, Germany. The event has broken attendance records this year. The numbers speak for themselves: 6% more exhibitors (992 total) and 2% more visitors (24 748 visitors). The event is also gaining ground internationally with the participation of exhibitors from 58 different nationalities. It is true that the properties of this raw material increasingly interest the construction and manufacturing industries, all over the world. The aluminum is lightweight, strong, corrosion resistant and easy to recycle. Demands continue to grow in a number of areas, such as the automotive industry, in particular for electric vehicles where weight is a major issue, aeronautics for the same reasons and also in the construction of light structures of any kind.
For our part, we were there to represent our market which is the custom manufacturing of mechanical maintenance parts for the production of primary aluminum.
Our booth has attracted a lot of curious people and we have held encounters that will surely lead to something interesting and others that have consolidated professional links already established.
We took the opportunity to put forward a few products. We have had interesting demands concerning our refractory products for sealing applications in carbon furnaces. In addition, our high-temperature silicone seals have also attracted the attention of many.
Participating in an international fair like Aluminum in Germany requires of course a lot of preparation: hotel, plane, booth, promotion, planning, etc. It is also a challenge for organizers and exhibitors, but beyond all this, there is also the unique experience of rubbing shoulders for a few days with a multitude of people, all players in the aluminum industry at different levels, from all over the world, with their different cultures, knowledges and know-hows. These people are competitors, potential customers, industry leaders, etc.
Industries3R is increasingly present at the international level and we consider important to show our colors at major events like this one. We will not miss the next edition that will take place in 2018 to continue to promote our company and take advantage of the opportunities that will arise.